Idle Sand Castle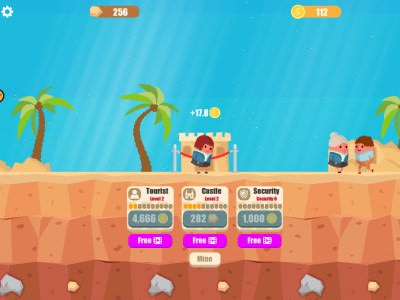 "Idle Sand Castle" emerges as a captivating and relaxing game that combines the elements of a clicker game with creative building. Released across various platforms since October 2020, this game offers players a chance to delve into a world of sandcastles, miners, and quirky adventures. Here, we explore the engaging world of "Idle Sand Castle" and what makes it a great pick for casual gamers.
Gameplay Mechanics
At its core, "Idle Sand Castle" is about building and managing. Players start by mining to collect coins, which are essential for progress. As you accumulate wealth, you can hire miners for passive income, construct intricate sandcastles to attract tourists, and employ security to fend off any threats. This blend of active and passive gameplay creates a satisfying experience that's both engaging and relaxing.
Progress and Strategy
What makes "Idle Sand Castle" intriguing is the strategic element in managing resources. Making wise decisions about where to invest – whether in mining, construction, or security – is key to growing your sandcastle empire. As players advance, they unlock new levels and upgrades, making the gameplay continuously interesting.
Release Date and Platforms
Released in October 2020 on Android, the game found its way to a wider audience, offering an easy-to-play experience for mobile users.
In January 2022, "Idle Sand Castle" expanded to Steam, catering to a community of gamers who prefer PC gaming.
The most recent release in November 2023 on WebGL broadened its accessibility, allowing players to enjoy the game directly in web browsers, both on desktop and mobile devices.
Controls and Accessibility
"Idle Sand Castle" boasts simple and intuitive controls, primarily using the mouse. This straightforward control scheme makes the game accessible to players of all ages and skill levels, ensuring a seamless gaming experience across all platforms.
Conclusion
Whether you're looking for a casual game to unwind with or a strategic clicker game that offers depth, "Idle Sand Castle" is a great choice. Its unique blend of strategy, creativity, and idle mechanics, coupled with its wide availability across platforms, makes it a delightful addition to any gamer's collection. So, get ready to mine, build, and protect your way to becoming a sandcastle magnate!
Have you tried building your empire in "Idle Sand Castle"? Share your strategies, achievements, or favorite aspects of the game in the comments below! 🏰🏖️🕹️