Galactic Crusade Clicker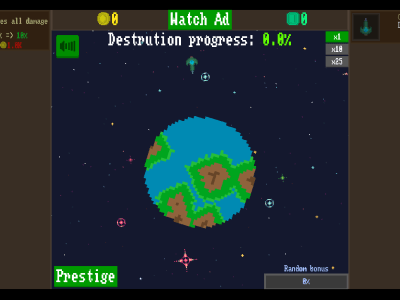 Prepare yourself for a thrilling adventure in outer space with Galactic Crusade Clicker! In this exciting clicker game, step into the shoes of a formidable alien commander in control of an ever-growing fleet of alien ships, ready to unleash chaos on every planet you encounter.
About the Game:
Game Objective: Your mission is to command your alien fleet as you journey through space, wreaking havoc and claiming every planet in your path. Upgrade and customize your ships, expand the dominion of your fleet, and establish your reign throughout the cosmos.
Gameplay Features:
Dynamic Upgrades: Enhance and modify your ships to boost their destructive capabilities.
Fleet Expansion: Increase your fleet size to magnify your conquering power.
Planet Conquest: Destroy and conquer diverse planets as you traverse through space.
Release Date: February 2022
Developer: Developed By Neko: Immerse yourself in a game crafted by Neko, who brings the cosmic battles and interstellar domination to life in Galactic Crusade Clicker.
Platform: Web Browser (Desktop and Mobile): Play anytime, anywhere, right from your web browser, whether on your desktop or mobile device.
Controls:
Left Mouse Button: Utilize the left mouse button to execute upgrades and obliterate planets.
Experience the adrenaline of interstellar warfare and cosmic conquest in Galactic Crusade Clicker. Embark on your campaign of galactic domination today, amass a powerful alien fleet, and let the universe tremble beneath your might!