Motocross Arena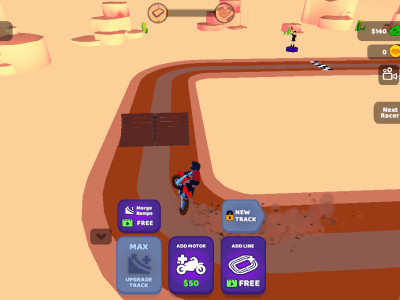 Motocross Arena is a fascinating fusion of the idle gaming genre with the fast-paced world of motocross racing. This game is all about strategic decisions and high-octane action, letting you immerse in the thrill of motocross without leaving your seat.
Game Overview:
Idle Mechanics: Even when you're not playing, your rider will continue to train, earning you points and currency. Spend these to upgrade your bike, rider skills, and even the track for bigger events.

Diverse Arenas: Travel through four distinctive arenas, each presenting its own set of challenges and opportunities. Whether it's a muddy track in the middle of a forest or a sandy desert trail, each arena promises a unique racing experience.

Stunts and Tricks: No motocross game would be complete without tricks! Unlock and perfect a range of stunts to awe the crowd and earn extra points. The riskier the move, the higher the reward.

Multiplayer Mode: Engage in races against players from all around the world. Climb the leaderboard, join tournaments, and showcase your motocross prowess.

Customization: Tailor your riding experience by personalizing your bike and rider. Upgrade engine parts, tires, and even the appearance of your bike. Additionally, you can customize your rider's outfit, helmet, and more.

Engaging Characters: Interact with a colorful cast of characters who will guide, challenge, and aid you on your journey to become a motocross legend.
Tips:
Make sure to reinvest your earnings to upgrade your bike and skills regularly. This will ensure that you stay competitive in races and maximize your idle earnings.

Participate in time-limited events and tournaments. They offer unique rewards and can significantly boost your progress.

Learn the arenas and their challenges. Familiarity with the tracks can give you an edge in races.
Conclusion:
Motocross Arena offers an exciting blend of idle game mechanics with the thrill of motocross racing. Whether you're a fan of racing games or enjoy the strategy behind idle games, this title promises hours of entertainment. Gear up, hit the tracks, and let the races begin!