Jump Up 3D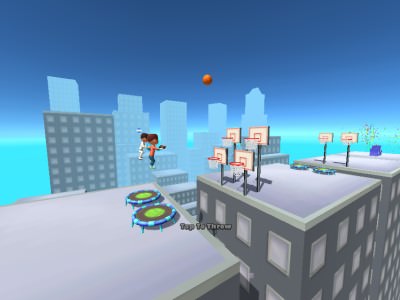 Jump Up 3D is the ultimate fusion of sports and arcade gaming. Set within dynamically rendered courts, the game is a rollercoaster of swift moves, quick reflexes, and the undying ambition to score the perfect basket. This isn't just any regular basketball game—it's a 3D experience that takes you on a breathtaking journey with every leap and dunk.
Features:
Vivid 3D Graphics: With stunning courts and realistic player motions, Jump Up 3D promises a visual treat. The game's 3D environment enhances depth, making each jump and shot feel incredibly lifelike.

Dynamic Gameplay: It's not just about scoring baskets. It's about maneuvering swiftly, taking calculated risks, and achieving impeccable timing to overshadow your opponent.

Intuitive Controls: Simplistic in design but intricate in mastery. Just use the left mouse button, and you're good to go, but achieving the right angle and force requires skill.

Multi-Platform Availability: Whether you're on your phone or your browser, Jump Up 3D ensures uninterrupted fun. Play on Android, iOS, or your favorite web browser—whenever and wherever you like.

Addictive Mechanics: With its competitive edge and quest for precision, it's hard to put down. Each game is a challenge, urging you to beat your own high score.

Interactive Environments: The courts come alive with vibrant colors, moving elements, and enthusiastic crowds cheering with every basket made.
Developed by Funtory Studio, Jump Up 3D: Basketball game perfectly encapsulates the thrill of the court into a compact, exciting, and visually appealing package. Whether you're a seasoned basketball pro or someone looking for a quick game to pass the time, Jump Up 3D promises to be your go-to game. Ready to make the jump?