Vacuum Hero: Mafia Murder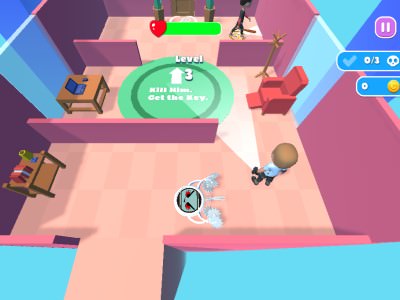 "Vacuum Hero: Mafia Murder" is a quirky and engaging casual game that puts players in control of an unexpected protagonist – a seemingly innocent robot vacuum cleaner that doubles as a killing machine. This unique game combines stealth, strategy, and action elements, offering a humorous and entertaining twist on the typical gaming experience.
Key Features of Vacuum Hero: Mafia Murder:
Unique Protagonist: Play as a robot vacuum cleaner, which secretly functions as a powerful weapon against mafia members.

Stealth Gameplay: Sneak around rooms to surprise and eliminate mafia members without being detected.

Diverse Challenges: Each level presents different scenarios and challenges to overcome.

Exciting Powers: Unlock and use various powers to enhance your abilities and strategies in taking down enemies.

Dynamic Levels: The game offers a series of exciting levels with varying layouts and enemy arrangements.

Dual Modes: Switch between cleaning mode and killing mode, adding a layer of strategy to how you approach each level.

Money Vacuum Mechanic: Collect money from defeated enemies and decide whether to clean up the aftermath of your attacks.
Release and Platforms:
Release Date: Initially released on Android in April 2022, followed by iOS in July 2022, and later on WebGL in November 2023.
Platforms: The game is available on web browsers (both desktop and mobile), Android, and iOS devices.
Controls:
Movement: Use WASD, arrow keys, or drag left-click to move the vacuum cleaner.
Start Game: Press 'Enter' to begin the game.
Mode Switch: Use the 'Space' bar to switch between cleaning or killing modes when using a manual controller.
Interact: Click the left mouse button to interact with in-game buttons and elements.
Gameplay Experience:
"Vacuum Hero: Mafia Murder" offers an amusing and lighthearted take on the action genre. The game's concept of a vacuum cleaner doubling as an assassin adds a humorous element, while the need for stealthy movement and strategic thinking provides a stimulating challenge. The dual modes of cleaning and killing add depth to gameplay, allowing players to approach each level with different tactics.
Conclusion:
For players looking for a casual game with a unique twist, "Vacuum Hero: Mafia Murder" is an excellent choice. Its blend of stealth, strategy, and action, paired with its unconventional protagonist, makes for an enjoyable and distinctive gaming experience. Whether you're playing on a browser or a mobile device, this game promises fun, challenges, and plenty of surprises.