Stick Merge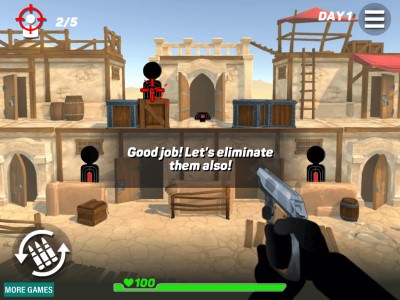 Combine weapons in the action game "Stick Merge" and create more powerful guns, and then go to the shooting range against enemy stickmen. Prepare your arsenal, upgrade your gun, collect all the bonuses and become the best shooter in the city. How powerful weapons can you create in the fight against enemies? Stay here to find out!
HOW TO PLAY THE GAME STICKMAN WEAPON COMBINATION?
Management in the game "Stick Merge" on the computer is carried out with the mouse, and on touch screens with the help of taps. The goal of the Stick Merge game is to combine different types of weapons to create more powerful guns, and eventually use them against the enemies in the shooting range. Click on a weapon and drag it onto an identical one to merge them and create a new one. As you combine weapons and unlock new ones, you will earn experience points and be able to level up. Each weapon in the arsenal generates money, and you can use it to buy high-level weapons from the in-game store.
Come out with a new weapon to the shooting range and shoot at enemy stickmen. Aim your scope and the weapon will fire asthmatically.