Obstacle Course Ragdoll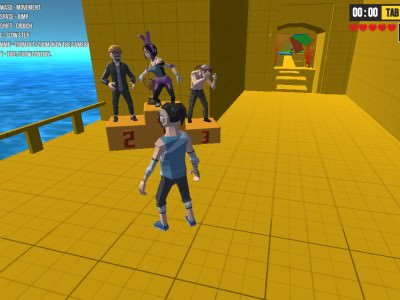 "Obstacle Course Ragdoll," set for release in November 2023, is an action-packed game that promises an exhilarating experience with its realistic physics and challenging obstacle courses. Drawing inspiration from parkour, Roblox's obby mode, and the thrilling antics of WIPEOUT, this game is designed to captivate players with its dynamic gameplay and three-dimensional graphics.
Key Features of Obstacle Course Ragdoll:
Realistic Physics: The game utilizes realistic physics to enhance the gameplay experience, making every movement and obstacle encounter feel authentic.

Challenging Obstacles: Players must navigate through a series of complex and challenging obstacles, testing their agility, timing, and strategic thinking.

Captivating 3D Graphics: The game boasts high-quality three-dimensional graphics, which contribute to an immersive gaming environment.

Variety of Gameplay Elements: Incorporating elements from popular games like parkour, Roblox's obby mode, and WIPEOUT, "Obstacle Course Ragdoll" offers a diverse and engaging gameplay experience.

Ragdoll Mechanics: The ragdoll mechanics add an extra layer of fun and unpredictability to the game, as players must control their character's limp, physics-driven body through various challenges.
Gameplay Experience:
Player Control and Movement: The game's controls are designed to offer a responsive and intuitive gameplay experience. Players use WASD keys to move, Space to jump, Shift to crouch, and C for a slow step.
Camera Control: The middle mouse button (MMB) is used to zoom in and out, providing players with control over their view and helping them better navigate through the courses.
Additional Controls: The Y key hides or shows controls for convenience, and the Tab key is used to pause the game.
Platform:
"Obstacle Course Ragdoll" is a web browser game, making it easily accessible to a wide range of players without the need for downloads or specialized gaming hardware.
Conclusion:
"Obstacle Course Ragdoll" is poised to offer an engaging and fun-filled gaming experience for players who enjoy action, strategy, and a touch of whimsy in their obstacle course games. Its combination of realistic physics, challenging courses, and high-quality graphics is sure to provide hours of entertainment. Whether you're a seasoned gamer or just looking for a fun way to pass the time, "Obstacle Course Ragdoll" promises to be a game worth checking out upon its release.