Lost Kingdom: Supply Wars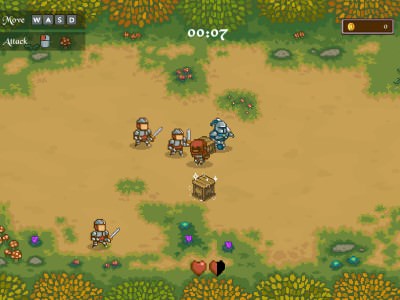 Lost Kingdom: Supply Wars Overview
Synopsis: Dive into the depths of the "Lost Kingdom" where survival hinges on quick reflexes and strategic decisions. Lost Kingdom: Supply Wars is an action-packed game set in a hostile realm. Your primary mission: secure as many supplies as possible, from essential ammunition to life-saving health packs. But be warned, for as you scavenge, enemy forces relentlessly aim to bring you down. Each power-up you seize not only aids your survival but also boosts your combat prowess. Can you navigate the treacherous terrain, fend off foes, and emerge victorious?
Release Date: September 2023
Developer: Brought to you by the innovative minds at M-One Games.
Platform: Web browser
Game Mechanics:
Navigate using the WASD or arrow keys.
Launch assaults and engage adversaries using the left mouse button.
Lost Kingdom: Supply Wars is not just a test of skill but also of strategy. Every supply is a step closer to dominance, and every enemy defeated is a victory for survival. Are you ready to stake your claim in the Lost Kingdom? 🛡️🎮👑