Free The Cat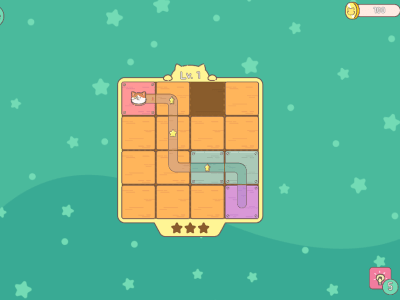 "Free The Cat" is a delightful and engaging puzzle game where players are tasked with creating a pathway to help a trapped cat find its freedom. This game combines cute and captivating visuals with brain-teasing puzzles, making it a perfect choice for both cat lovers and puzzle enthusiasts.
Gameplay and Challenges
Puzzle Solving: Players must strategically move tiles to create a clear path for the cat to escape.
Variety of Levels: The game offers a range of puzzles, each with increasing complexity and unique challenges.
Engaging Mechanics: The puzzles involve rolling, sliding, and logical thinking to solve them effectively.
Platform Accessibility "Free The Cat" is designed to be accessible on multiple platforms:
Web Browser: Playable on both desktop and mobile web browsers, offering convenience and easy access.
Android and iOS: Available on mobile platforms, making it perfect for gaming on the go.
Control Scheme The controls are intuitive and user-friendly, ideal for players of all ages:
Tile Movement: Use the left mouse button (or finger on touch devices) to drag and move the tiles within the puzzle.
A Perfect Blend of Cuteness and Challenge
"Free The Cat" promises to be a charming and mentally stimulating game. Its blend of adorable graphics and thought-provoking puzzles provides an enjoyable experience that can appeal to a wide audience. Whether you're looking for a casual game to pass the time or a way to challenge your puzzle-solving skills, "Free The Cat" is set to be a delightful addition to your gaming collection.
Prepare for a purr-fectly enjoyable puzzle experience with "Free The Cat." Can you use your wits and problem-solving abilities to free the adorable feline? Get ready to slide, think, and solve your way through this captivating puzzle game!