Fed up Dirt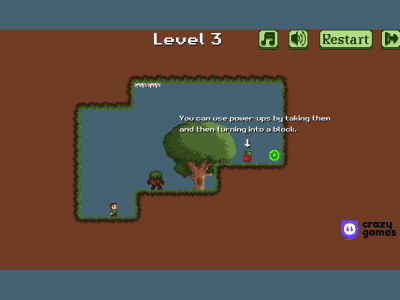 Fed Up Dirt is a captivating puzzle-platformer that puts you in control of a unique character made of dirt. Your primary objective is to navigate through intricate levels to reach the orb, your gateway to the next challenge. Conquer a variety of obstacles and puzzles to successfully complete each stage and continue your journey in this engaging game.
Launch Date: August 2023
Developer: The game has been skillfully developed by Kerem.
Supported Platforms: Web browser
Last Update: August 28, 2023
Game Controls:
A or Left Arrow Key: Move Left
D or Right Arrow Key: Move Right
W or Up Arrow Key: Jump
Hold S or Down Arrow Key: Transform into a Dirt Block
R: Restart Level
Embark on a brain-teasing adventure with Fed Up Dirt, where each level offers a new puzzle to solve and obstacle to overcome!